Bauhaus artist, Paul Klee (1879-1940) had a unique abstract style nodding, by turns to Expressionism, Cubism, and Surrealism. Now, computer scientists from China and the USA are working together to create an algorithm that can mimic the style of the Swiss-born artist. Their research adds to the oeuvre that is known as generative art.
Writing in the
International Journal of Arts and Technology
, Hanqing Zhao of Tianjin University, and Kang Zhang of The University of Texas at Dallas discuss how they have used their personal assessment and computer analysis to study Klee's Pedagogical Sketchbook created in his later years. Having analysed the colour and composition of Klee's paintings, the team has used a computer to generate with randomly adjusted parameters of compositions and palette, two generative artworks in the style of Klee.
The team explains that the scalable framework they have developed offers a novel paradigm for the generation of abstract images. The team suggests that generative art of this type can have its place as an art form in its own right. Moreover, by providing a non-invasive way to analyse and then describe original artistic works it might be a useful tool for those studying traditional, albeit modern or abstract, paintings.
"Other researchers could extend this framework on other abstract paintings' styles," the team writes. "We hope that our work inspires both artists and computer scientists for further research on new media art and design."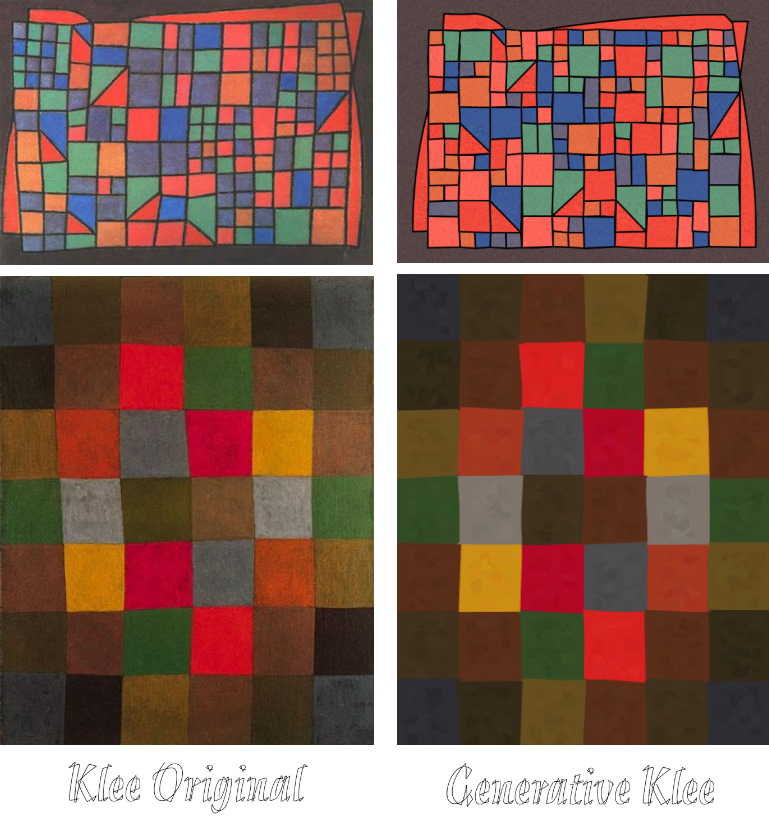 Pictured above are captures of the originals of
Glass Façade
and
New Harmony
with generative forms created by the authors on the right.
Zhao, H. and Zhang, K. (2019) '
Modelling and generating abstract images of Paul Klee style
', Int. J. Arts and Technology, Vol. 11, No. 4, pp.380–392.